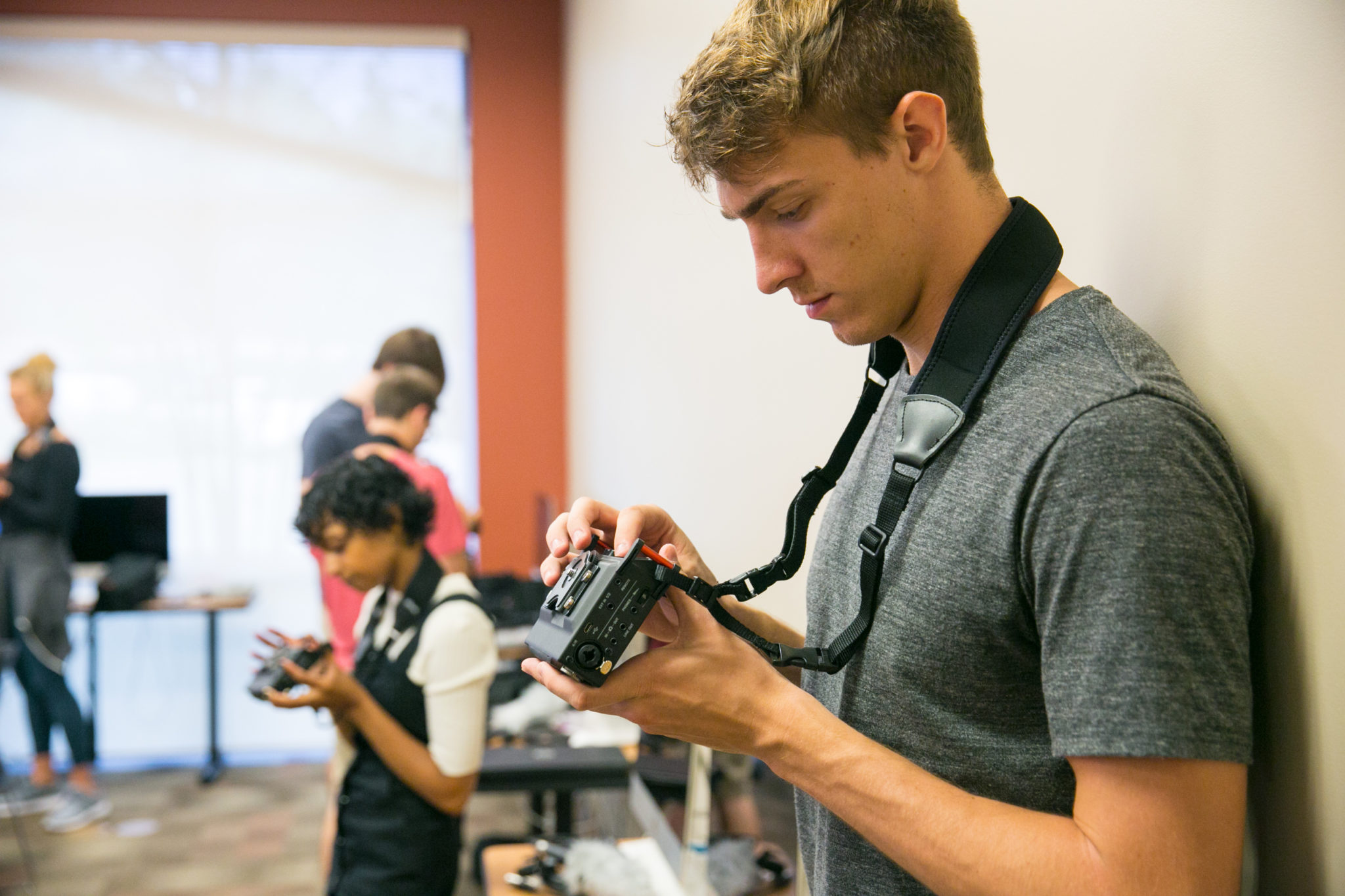 Learning by doing. Serving the community. Preparing for life as well as a rewarding career. All of these core Mercer cales are embodied in Mercer's Department of Journalism and Media Studies.
Through the Department of Journalism and Media Studies, Mercer University offers majors and minors in journalism and media studies, as well as a minor in film studies. Students are encouraged to double major and combine their other interests with journalism. Students may also propose individualized majors that combine journalism with fields in the physical sciences, public policy, entrepreneurship, technology, etc. Non-majors are encouraged to work with the CCJ and contribute to the work of our partners (the Journalism and Media Boot Camp course is strongly recommended as a precursor to such work).
The latest requirements for the department may be found in the Mercer catalog.
More real-world opportunities
The CCJ stands out from other journalism programs because of our partnerships with professional news organizations that give students experience in television, radio, print and online media.
Students can walk from classes straight into three of the partner newsrooms located on campus: The Telegraph, Macon, Georgia's Pulitzer Prize-winning daily newspaper; Georgia Public Broadcasting's Macon bureau; and WMUB, our Mercer-owned station that produces news content and includes an ESPN3 studio for coverage of Mercer's Division 1 athletics. Three miles down the road, students also have the opportunity to work with our commercial television partner, 13WMAZ, a CBS affiliate and Macon's No. 1 news station.
Mercer journalism students do rotations in which they can work in all of the partner newsrooms, and many of the projects they do in the classroom are also published through our partners.
In addition to their experiences at home, journalism students also report abroad in collaboration with the Mercer On Mission program. Students have traveled around the globe producing documentary films about Mercer's work in Peru, Nepal, Vietnam, Madagascar, Dominican Republic, Tanzania, Rwanda and beyond.
Get a portfolio that gets you a job
Our program allows students to be published as early as their first semester. We embed storytelling and production into many of our core journalism courses, and students also spend at least three semesters working in professional newsrooms. This means our students leave Mercer with a portfolio of professionally published work to show potential employers.
What classes are like
All of our production courses maintain a maximum 18:1 student-to-faculty ratio and include hands-on instruction. Our journalism majors are exposed to a broad range of skills that allow them to adapt to the needs of any media organization. We believe students should be versed in all forms of media and not be limited to a specialty.
Mercer also doesn't make students wait until their sophomore or junior year to get started. We put a camera and a microphone in your hands the first semester, when you take Journalism and Media Boot Camp, a rapid-fire introduction to the core skills of 21st century digital journalism. From there, you'll take courses to help you strengthen and refine individual skills such as writing, photojournalism, videography, studio production, data journalism and computer coding, media business entrepreneurship, and community engagement.
Our signature Practicum course places students in professional newsrooms for a few hours a week. While students at other schools are testing their skills by producing stories just for their professors, our students do real journalism for real people that makes a real impact.